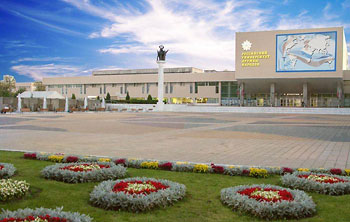 The Peoples' Friendship University of Russia (RUDN University), with the cooperation of the Steklov Mathematical Institute of the Russian Academy of Sciences and the Lomonosov Moscow State University, is organizing the 9th International Conference on Differential and Functional Differential Equations, June 28 – July 5, 2022.
The Conference is honored to be a satellite of the International Congress of Mathematicians 2022, July 6–14, Saint Petersburg, Russia.
The scientific program will consist of invited 45-minute lectures, 30-minute lectures, and 20-minute communications. The conference will be devoted to classical topics of the theory of differential equations and different kinds of nonlocal interactions:
ordinary differential equations,
dynamical systems,
partial differential equations,
semigroups of operators,
nonlocal spatio-temporal systems,
functional differential equations,
applications.
Preliminary List of 45-minute Invited Lecturers:
O.N. Ageev, G. Allaire, M. Ben-Artzi, S. Bianchini, G.A. Bocharov, G.-Q. Chen, A.A. Davydov, J.-M. Delort, N. Dencker, S.Yu. Dobrokhotov, Yu.A. Dubinskii, V.Z. Grines, W. Jäger, A.N. Karapetyants, C. Kenig, V.V. Kozlov, T. Krisztin, K. Lee, M.C. Mackey, F. Merle, V.E. Nazaikinskii, A.I. Neishtadt, P.I. Plotnikov, A.I. Shafarevich, I. Shafrir, A.A. Shkalikov, A. Tesei, D.V. Treschev, L. Véron, V.V. Vlasov, I.V. Volovich, V.A. Volpert, H.-O. Walther.
Dates
The arrival day is June 28, 2022 and the departure day is July 5, 2022. The opening ceremony will take place on June 29, 2022 and the closing ceremony will be on July 4, 2022.
Contacts
Professor A.L. Skubachevskii
Mathematical Institute
Peoples' Friendship University of Russia (RUDN University)
6 Miklukho-Maklaya st.
Moscow 117198, Russia
Fax:
+7 495 955 0928
E-mail:
dfde2022@mi-ras.ru
Internet:
http://dfde2022.mi-ras.ru